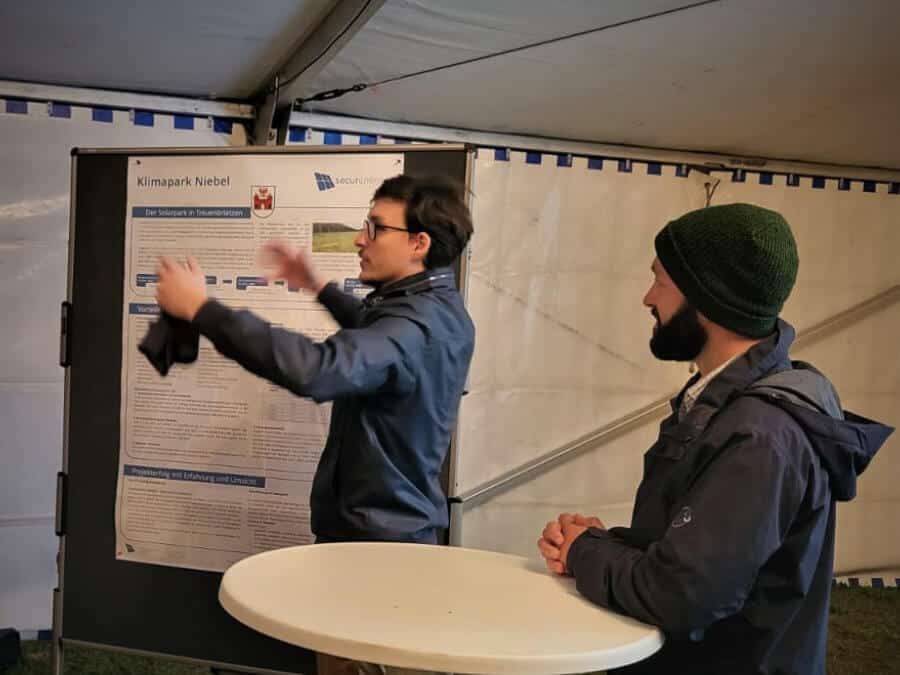 Positive decision in Niebel-Treuenbrietzen on the 26.5 megawatt climate park Niebel
At the beginning of October, our project development team had the opportunity to present the planned climate park at a citizens event in the Niebel district of Treuenbrietzen. About 45 residents, the mayor Mr. Knape and Mr. Wildgrube from the department of urban planning / energy and climate protection / economic development took part in the event. After a general introduction to the topic of renewable energies, Dr. Stefan Klosz, project developer at securenergy, took over the presentation of the concrete plans of the Niebel Climate Park.
This is a 27 ha solar park with a total output of 26.5 megawatts. In the future, it is expected to generate around 28 million kWh of solar power per year and thus be able to supply approx. 7,800 3-4 person households. At the same time, if successfully commissioned, up to 26,000 tons of CO₂ will be saved. In order to counteract the frequent power outages in the district of Niebel, the construction of a medium-voltage line by means of underground cables is aimed at, so that the village will continue to be supplied with electricity in wind and weather.
In mid-December, the scheduled date for the Treuenbrietzen town council meeting took place, followed by a series of meetings to decide on the development plan. "With 14:3 votes, we can be pleased about a positive decision shortly before the end of the year and thus begin the concrete preparation of the draft plan," explains Dr. Stefan Klosz.