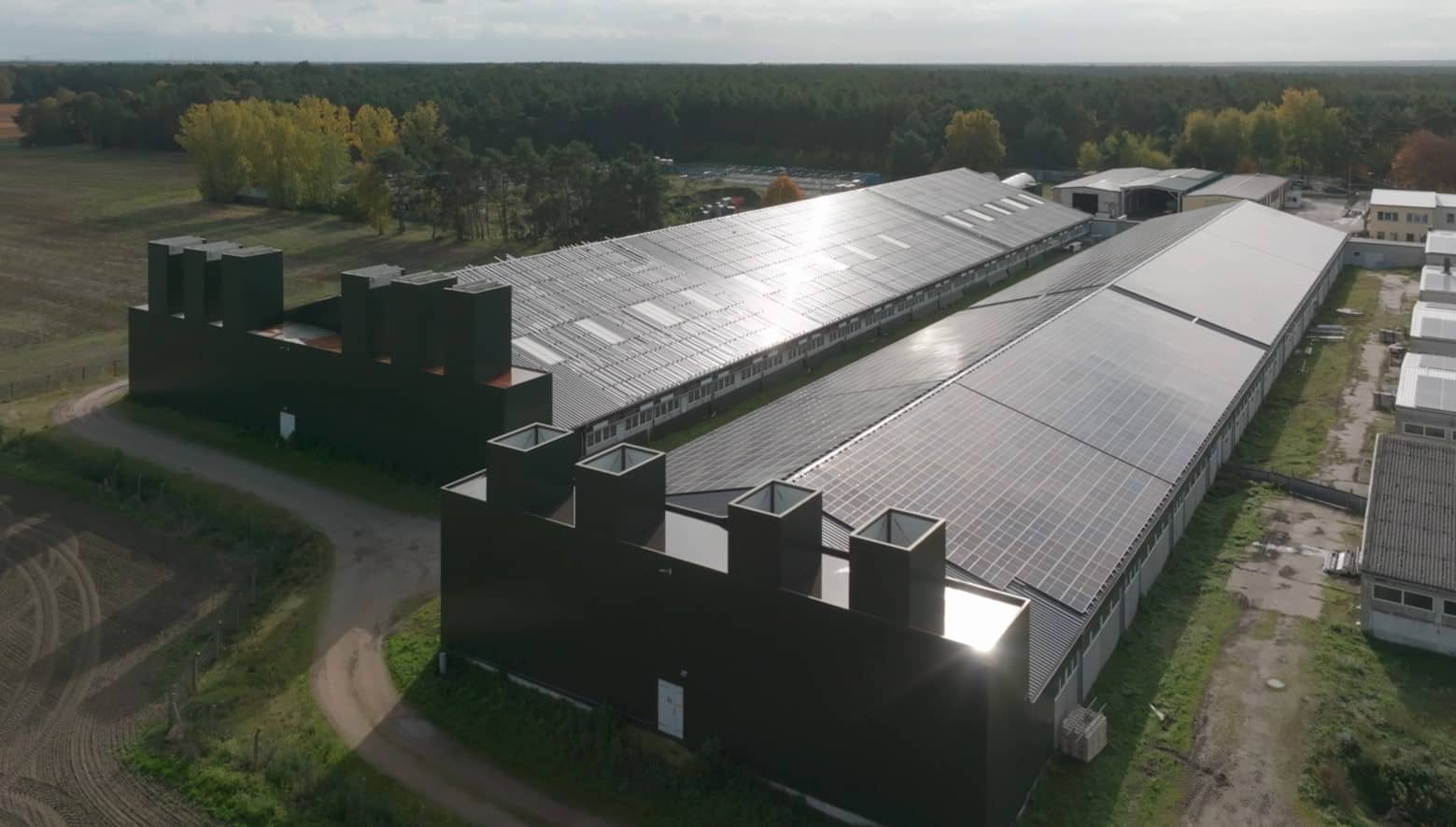 1.8 megawatt PV system installed on sandwich panels with patented support system
PV mounting system expert AEROCOMPACT has equipped its largest sandwich panel roof to date with its patented structure. Berlin-based solar company securenergy GmbH has installed the Austrian manufacturer's COMPACTMETAL TR rail system on two newly built halls in Nuthe-Urstromtal, Brandenburg. Covering an area of almost 10,000 square meters, the approximately 4,600 modules generate a total of 1.861 megawatts.
Complex statics
«The statics were very complex», reports Johann Egger, project manager at securenergy. «Normally, we would have used a short rail». However, this was not readily possible with sandwich panels because the layers can detach from each other if the substructure is screwed directly to the top layer of the panels. «In addition, the purlin spacing was very wide, up to three meters. We needed a stable solution that could withstand high snow and wind loads. The AEROCOMPACT system convinced us», he explains.
Self-supporting construction
AEROCOMPACT's patented COMPACTMETAL TR fastening system is the first solution on the market that neither stresses nor damages sandwich panels. This is because the rail in this system does not rest directly on the roof, but is connected directly to the purlin below with self-drilling support screws. As the PV substructure is fully supported on it, neither compressive nor tensile forces from wind or snow are transferred to the sandwich panels, a design that prevents leaks or the outer shell from loosening. Spacers guarantee that the distance between the rail and the roof is maintained evenly.
Recommended by panel manufacturers
«Our support system is recommended by many panel manufacturers», says AEROCOMPACT product manager Albert Vonbun. What's more, the installation effort is very manageable. «We were 30 percent faster than expected. That surprised us very positively», says project manager Egger happily, adding, «The solution combines the advantages of easy manageability and fast assembly from the world of short rails with outstanding stability».
About AEROCOMPACT
AEROCOMPACT was founded in 2014 by Mathias Muther in Austria. The company produces and sells PV mounting solutions for flat roofs, pitched roofs and metal roofs as well as for ground-mounted systems. In addition to its headquarters in Satteins/Vorarlberg, the expert for PV mounting solutions has locations in Nüziders/Vorarlberg and Vienna. AEROCOMPACT also has four subsidiaries in Austria, Germany, the USA and India, as well as its own sales offices in nine countries. In total, the company employs around 130 people worldwide. Its substructures are manufactured in the company's own production facilities in Vorarlberg as well as by production partners in various countries. The company's products have already been installed in over 50 countries.