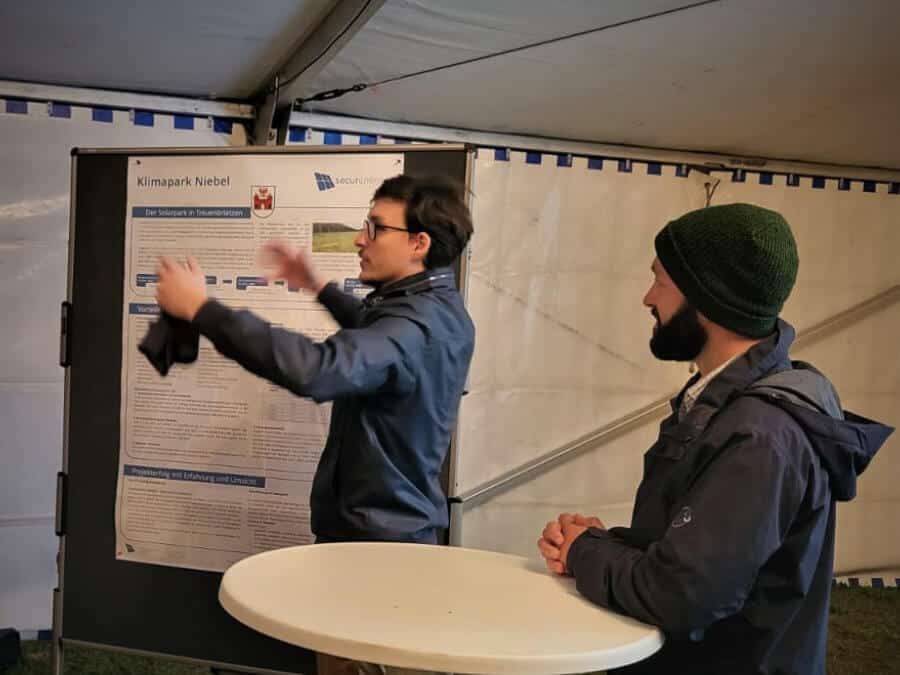 Information evening in Niebel-Treuenbrietzen about the climate park Niebel
At the beginning of the month, our project development team had the opportunity to present the planned climate park at a citizens event in the Niebel district of Treuenbrietzen. About 45 residents, the mayor Mr. Knape and Mr. Wildgrube from the department of urban planning / energy and climate protection / economic development took part in the event. After a general introduction to the topic of renewable energies, Dr. Stefan Klosz, project developer at securenergy, took over the presentation of the concrete plans of the Niebel Climate Park.
This is a 27 ha solar park with a total output of 26.5 megawatts. In the future, it is expected to generate around 28 million kWh of solar power per year and thus be able to supply approx. 7,800 3-4 person households. At the same time, if successfully commissioned, up to 26,000 tons of CO₂ will be saved. In order to counteract the frequent power outages in the district of Niebel, the construction of a medium-voltage line by means of underground cables is aimed at, so that the village will continue to be supplied with electricity in wind and weather.
The next meeting with the Committee for Urban and Local Development is expected to take place at the beginning of November, followed by a series of meetings to decide on the development plan.